Q: How quickly can I expect to sell my Perth home privately? Most real estate including Perth homes sell in the first month. If the private sale of your Perth home does not sell within the first month of it being on the market, you should revise your home selling price and consider advice from a Perth Real Estate Agent. The home selling rate chart below is based on the average home selling rate Australia wide.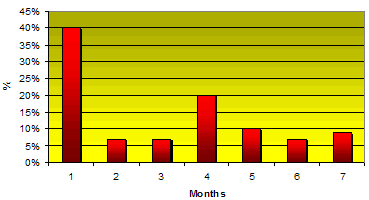 More Real Estate Statistics
If you want free real estate sales promotion in Perth for private home sales in Perth, feel welcome to post your home sales pitch and images of your Perth house on the FREE PERTH REAL ESTATE BULLETIN BOARD (forum)
If you want helpful free DIY Private home sales advice feel welcome to let us know how to contact you.
Listings for Perth real estate agents are free.
FREE Real Estate Membership Listing