Rendezvous Grand Hotel Scarborough Beach is the big hotel landmark at Scarborough Beach which dominated the skyline.
The Rendezvous is a very large hotel near Scarborough beach with all the services of a resort hotel. The Rendezvous Hotel is in the Observation City Complex. The large building is a Perth land mark and can be seen from Rottnest Island. The Rendezvous Hotel is conveniently situated near shopping, and services of the Scarborough Beach CBD. The Rendezvous Hotel is only 20 minutes away from the Perth CBD.

Photo of the large Rendezvous Hotel from Trigg Island
Beachfront hotel rooms with views of Scarborough Beach are a little more expensive but worth the view.
Book Hotel Rendezvous Online.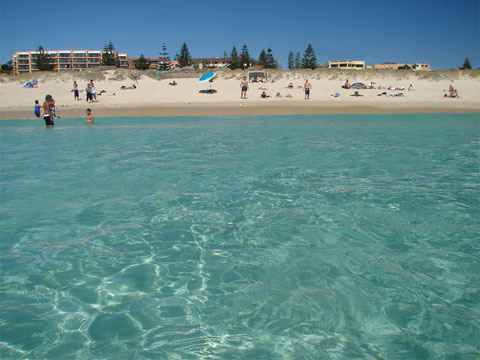 Rendezvous Hotel is near Brighton Beach hotels in photo above.

Google Street View of large hotel near centre of Scarborough
Youtube Video of Rendezvous Hotel Scarborough Beach

BOOK LARGE HOTEL NEAR SCARBOROUGH BEACH
Back to more accommodation near Perth Australia
Top Large Hotel Near Scarborough Beach